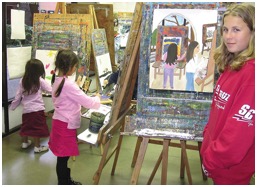 School Year Classes
Santa Cruz studio school offers art classes for children and young adults ages 3-18. The school year classes are on-going from September until June. Students may enroll at anytime providing that there is space available. Payment for these classes is due monthly and will be posted in the studio. If a class is missed, every effort will be made to provide a make-up on a different class day during the year.




Preschool Painting

A painting class for 3-5 year olds. In this beginning class children will be introduced to various art materials as well as basic color mixing. This will be presented in a safe and comfortable way, encouraging the development of coordination and confidence.


Studio Painting

Students will work in tempera paint on paper. The primary focus is for each student to develop his or her own personal imagery inspired by both imagination and direct observation. Technique, composition and color will be addressed as each painting progresses. Cost of all materials is included in class fees. Acrylic paints are provided for those students working on canvas.


Drawing

Students will work from observation and imagination in a variety of media, both black and white and color. Ideas such as line, tone, space and content will be presented as each work progresses. Cost of materials is included in class fees.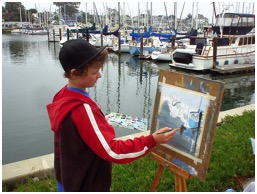 Landscape Painting

In this class students will paint from direct observation at various locations in Santa Cruz. In addition to representing the landscape, the goal will be to evoke the feeling of being in a particular place. Classes will last two and a half hours to enable students to complete a painting in each class meeting. The materials used will be gouache, an opaque, water-based paint. Gouache and brushes must be purchased separately. A handout listing supplies and locations will be provided.





Summer Classes

Santa Cruz Studio School offers a summer art program for children and young adults ages 3-18. Summer classes begin in June and end in August (8 weeks). Students may enroll in one 4 week session or for the full 8 week program. However, to accommodate the need for flexibility in a family's summer schedule, other kinds of enrollment options are possible.